IV.I.5 Other demand specifications
In this section some frequently used demand specifications are described by one or several short illustrations. These illustrations are meant to indicate where these specifications can (or have been) used according to applied econometric research.


(IV.I.5-1)
An adaptive expectations model can now be used to substitute the unobserved expected market value of the firm

(IV.I.5-2)

Eq. (IV.I.5-2) can be rewritten as

(IV.I.5-3)


(IV.I.5-4)
which is in fact equivalent to the Koyck lag specification of (III.VI.2-4).


(IV.I.5-5)

The adaptive expectations model can also be used in the following form

(IV.I.5-6)

On logarithmizing (IV.I.5-6) we obtain

(IV.I.5-7)

If
- it is also supposed that expected prices follow an adaptive expectations model like (IV.I.5-6)

(IV.I.5-8)



(IV.I.5-9)

Remark that the use of adaptive expectations has also been criticized, mainly on theoretical backgrounds.
Sometimes it is hypothesized that demand of electricity is trying (on long-run) to reach a certain desired level of consumption (c.q. an equilibrium level). Within one time period this is not completely possible, and therefore a partial adjustment model is constructed

(IV.I.5-10)

Eq. (IV.I.5-10) can be rewritten as

(IV.I.5-11)
Now if the complete model for electricity demand is given by

(IV.I.5-12)
then on equating (IV.I.5-12) to (IV.I.5-11) we obtain

(IV.I.5-13)
A demand specification of a special kind is the consumption function. This is an equation relating the consumption in a given market to the level of income, or any other variable that is having an effect on the ability of economic agents to consume.
Probably, the most interesting specification of a consumption function is that of Davidson, Hendry, Srba, and Yeo (c.q. DHSY). The DHSY seasonal consumption function (DHSYSCF) can be formulated as

(IV.I.5-14)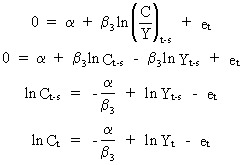 (IV.I.5-15)
which can always be rewritten (on dropping the error term) as

(IV.I.5-16)