First we derive an important formulation of the structural demand system mathematically, without bothering about economic interpretation. The next section will be more extensive, and includes the derivation of several important economic properties of demand systems. Therefore section IV.I.1 may be skipped by those who are only interested in the formulation of demand systems. Readers who are interested in the "whole story" may directly proceed to the next section.
Theorem: If consumers are utility maximizers with utility function U(q) (which is twice differentiable) subject to a budget restriction p'q = m (q is a consumption vector, p is an exogenous price vector, and m is the exogenous budget) then an approximation to the consumers demand equation is given by

(IV.I-1)
Proof: is quite simple because it only involves optimizing the relevant Lagrangian function, yielding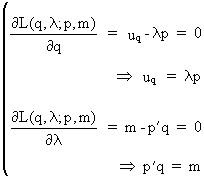 (IV.I-2)
The second order conditions may be assumed to be satisfied (see section IV.I.1).
On approximating (IV.I-2) we obtain (in differential form)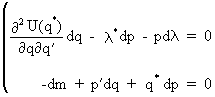 (IV.I-3)
or
(IV.I-4)
where H* is the Hessian matrix of the utility function U(q*).
Now consider the following definitions (for the sake of convenience)

(IV.I-5)
and the following specification of consumer demand (as a function of m and p)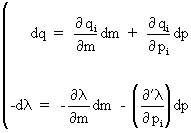 (IV.I-6)
or equivalently

(IV.I-7)
By combining (IV.I-4) and (IV.I-7) we find
(IV.I-8)
Since H is a symmetric matrix, it follows that

(IV.I-9)
is also symmetric.
On substituting (IV.I-9) into (IV.I-8) we find
(IV.I-10)
From (IV.I-9), and (IV.I-10) it follows that

(IV.I-11)
(for details see next section).
Now the structural differential demand system is obtained by partial substitution of (IV.I-10) into (IV.I-11) combined with (IV.I-7)

(IV.I-12)
Rewriting a little further (using (IV.I-10) and (IV.I-11)) yields the desired result

(IV.I-1 repeated)
(Q.E.D.).