III.I.3 Nonlinearities in Linear Regression
If the linearity assumption of OLS (II.I.3-1) or (II.II.1-2) is violated it is sometimes possible to solve this problem by using transformed series in stead of the original series. The simplest transformation is the natural logarithm which can be applied if we have to estimate for instance COBB-DOUGLAS-like equations

(III.I.3-1)

Transforming (III.I.3-1) yields thus

(III.I.3-2)
which is now a (log)linear relationship. Therefore we can, by first transforming each series, apply OLS to (III.I.3-2) without any problems.
Another nice result of the loglinear specification is that the sensitivity parameters alpha and beta can now be interpreted as elasticities. To illustrate this, assume an equation

(III.I.3-3)
which can be rewritten as

(III.I.3-4)
The elasticity of changes in X affecting Y is defined as

(III.I.3-5)
We find the sensitivity parameter of (III.I.3-4) as

(III.I.3-6)
and now the remaining question is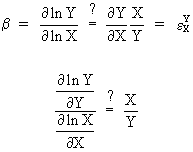 (III.I.3-7)
which can be obviously shown to be true since (III.I.3-7) is equivalent with

(III.I.3-8)
Another possible solution to the nonlinearity problem is substitution of the variables. This method can only be applied if there is a nonlinearity in the variables but not in the parameters.
A simple example will illustrate this substitution method.
Assume an equation
(III.I.3-9)


(III.I.3-10)
which solves the problem.
Finally consider an equation which cannot be transformed and which is nonlinear in the parameters

(III.I.3-11)
which is quite hard to solve with a least squares formula, let alone impossible to solve with OLS.
In general there exists no formula which can be applied to likewise equations. In stead, another method should be used: the nonlinear least squares (mostly by means of an iterative MLE algorithm).