Univariate Transfer Function Analysis - Introduction
The previously described techniques (for ARIMA model building) can be easily expanded for seasonal time series. In fact all identification, estimation, checking, and forecasting procedures are not different from the non-seasonal counterpart. All the above descriptions and reflections are still valid for the seasonal case: one only has to substitute the time lag i (in t-i) for i*s (to obtain an index t-i*s) where s is the seasonal period (e.g. s = 12 for monthly, and s = 4 for quarterly data).
There are two possible ways to combine the non-seasonal and seasonal ARIMA structures into one model.
First an additive seasonality model could be considered

(V.I.5-1)
Before the transfer function methodology is considered, some words on intervention analysis (in the context of the Box-Jenkins methodology) are appropriate.
An intervention model can be written as

(V.II-1)

The intervention variable can be either a pulse, step, or extended pulse dummy. Note that the effect of the intervention variable on Y(t) can be highly nonlinear, due to the rational lag structure specification. Of course, it is possible to introduce several intervention variables into the model.
The intervention analysis can also be used to detect outliers in time series (MILLS 1990).
An additive outlier can be defined as

(V.II-2)
whereas an innovational outlier can be defined as

(V.II-3)
The magnitude of the additive, and innovational outlier is given by Mills (1990) as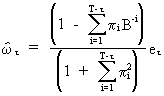 (V.II-4)
and

(V.II-5)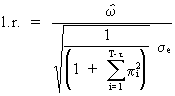 (V.II-6)
(for additive outliers), or

(V.II-7)

is obtained from the estimated residual variance. The likelihood ratio statistics are standard normally distributed.